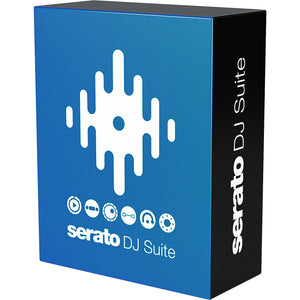 Everything you could ever need and want from Serato software! 
--- 
As a DJ software platform, Serato DJ Pro dominates the market. And with the Serato DJ Suite, you get everything that makes this system so popular - and we mean everything! For starters, you've got an absolutely rock-solid 4-deck DJ system to work from, with integrated sampling, hot cueing, EQing, and all the other functions any modern DJ could ask for. Next, you get the major expansions. Serato Video lets you add VJ-style graphics without focusing on your visuals, while Pitch 'n Time lets you pull off extreme time and pitch bends, and Flip lets you create automated cue point triggers for advanced transitions and other tricks. Top it off with every FX Expansion Pack Serato makes, and you've got the Serato DJ Suite.
Organize your music with virtual crates and useful metadata
When it comes to managing your music, you couldn't ask for a better copilot than Serato DJ Pro. Organize your music into crates for different gigs, complete with album art. You'll get full access to your iTunes library and whitelabel.net files right off the bat too. You can even set up keywords, such as genre or BPM, to sort your music into smart crates that auto update, or toss new files into the Prepare Crate for further review. Serato DJ Pro can even call up a history of what you played in recent gigs, which is a real bonus if you need to turn in lists for royalty tracking.
See your music in motion in the refreshingly clean interface
One of the coolest things about digital DJing is the ability to see your music in motion, but Serato DJ Pro takes that concept to a whole new level. Four Virtual Decks provide all the key track information you need, complete with BPM, track progress, pitch info, and more, and large jog dials spin, providing you with reference points for scratching and beat juggling. You also get large and colorful waveform displays that range from red for bass to blue for treble sounds, and since they line up next to one another, you can follow the transients to ensure that your tracks are truly locked to the beat.
Master time with cues, loops, sync, and quantize functions
DJing is all about time and timing, and Serato DJ Pro puts the essential time-control functions you need right at your fingertips. If you use a lot of cue points, then you'll love the way Serato DJ Pro lets you display all eight cue points, complete with unique names, at once. The same goes for loops and auto loops. If manual beat matching isn't your thing, A Sync function will free up your time and save you the stress of fiddling with the pitch slider. Quantize mode is also a magical thing if your timing is less than perfect, automatically triggering cue points and loops in time to the beat. And you can spare yourself the embarrassment of a bad dismount by kicking in Slip mode, which lets you scratch or juggle cue points to your heart's desire and jump ahead to where your track would be when you're done.
Get creative with the onboard sampler and iZotope effects
Want to shake things up? Serato DJ Pro's onboard SP-6 sample player and integrated iZotope effects offer more creative flexibility than a table covered with expensive DJ hardware. The SP-6 hooks you up with four banks of six samples each. In Advanced mode, you can tweak every little detail about how your samples play back, and in the Simplified mode, all the extraneous things you don't need to perform tuck neatly out of sight. The effects section comes loaded with all the staples, including delays, reverb, flanger, distortion, filters, and more. You can pick up additional effects packages too, and since they're all made by iZotope, you know they're going to sound good.
Expand your domain with powerful iOS control apps
Between its plug-and-play compatibility with a wide range of popular DJ hardware and its near-universal MIDI compatibility, Serato DJ Pro really lets you get the most out of your gear. One such way is iOS integration. When you load up the Serato Remote app on your iPad or Serato Remote mini app on your iPhone or iPod touch, you'll be able to take control of nearly any Serato DJ Pro function without reaching for your mouse or your DJ controller. These apps are the perfect solution for elaborate DJ rigs, and you'll find countless ways to put them to work.
Add extremely cool visuals with Serato Video
Serato Video expands the already awesome power of Serato DJ with cool, interactive video capabilities. Whether you're an experienced VJ or you're looking for an easy way to add exciting visuals to your DJ set, Serato Video is perfect for the job. For starters, Serato Video comes with a ton of cool effects and transitions that you can trigger and manipulate from your Serato-compatible hardware. What really impressed us here at Sweetwater was the combination of audio-responsive video and audio-linked FX, which lets you set up extremely cool video shows that you barely have to think about - just DJ as you normally would, and your visual candy morphs and responds to the music. And you've got to hand it to the guys at Beeple and I Love QC for creating some extremely cool free content for Serato DJ Pro. Top it off with Syphon support, and you can easily share your video with other apps on your Mac for easy projection mapping.
Serato DVS support lets you DJ with real vinyl
If you're used to DJing with real vinyl under your fingertips, then you need Serato DVS. Combined with a compatible audio interface and a set of Serato's time-code vinyl, this system lets you control your Serato DJ Pro decks right from your turntables. We're talking about way-faster-than-MIDI response times too, ensuring that you never miss a beat, literally. Put a sticker on your vinyl, and you'll be locked in time with Serato's virtual platters, so you never have to look up at the screen. DVS is a total must-have for any old-school DJ looking to get the most from Serato DJ Pro.
Suite includes all FX Expansion Packs and more
Load your Serato DJ rig up with trippy reverbs, dub-style analog magic, lo-fi glitches, and other essential effects with all four of Serato's FX Expansion Packs. These packs include the tools you need to craft crowd-surging transitions and totally warp tracks into engaging new compositions. On top of that, Serato DJ Suite includes both the Pitch 'n Time expansion and the Flip expansion. Pitch 'n Time is based on Serato's premier time-stretching and pitch-shifting software and allows you to pull off massive track warping tricks, without ruining your sound quality. Flip lets you automate cueing, and when you put that together with the plethora of effects at your disposal, you can create some amazing results.
Serato DJ Suite Digital DJ Software Bundle Features:
One of the world's most popular digital DJ applications for use with a wide range of compatible hardware
Includes Serato DJ Pro plus all expansions: Video, DVS, Flip, Pitch 'n Time, and 4 FX Expansion Packs
Easy-to-use and extremely flexible user interface lets you keep your display clutter free while accessing all the tools you need
Powerful song organization and management options let you build virtual crates, log history, and automatically sort your tunes
Cues, loops, sync, and quantize functions all make getting the perfect timing in your performances easy
Slip mode lets you perform crazy turntable tricks and cue point juggling, without losing the beat
SP-6 sample player provides you with 24 sample slots you can use to spice up your mix
Get even more creative with a full set of iZotope effects
Serato Remote and Serato Remote mini iOS apps provide powerful remote control capabilities
Requires compatible hardware from Rane, Pioneer, Numark, Novation, Vestax, and others
Serato Video makes adding graphics and visual effects to your show seamless
Trigger, mix, and manipulate video content right from your Serato compatible hardware
Supports .MOV .M4V .MP4 .M4A .AVI .FLV .MPG .MPEG .DV .QTZ file formats
Includes a full library of video transitions and visual effects
Audio/Video linked effects respond to the music, allowing you to create stunning synced performances
Record your set with integrated video recording
Syphon support (Mac only) lets you send video output to other applications for easy projection mapping
Add your own images and text to your video mix to personalize your show
Store effects within each video file for instant recall
Serato video library of video content from I Love QC (Mac only) and Beeple gets you started
Supports advanced configurations for external connections to monitors, screens, and projectors
DVS allows you to DJ with real vinyl and time-code control records
Flip lets you automate cue points for amazing transition and utility effects
Pitch 'n Time lets you pull off extreme time and pitch bends, without ruining your audio
FX Expansion Packs include trippy reverbs, dub-style analog magic, lo-fi glitches, and more